English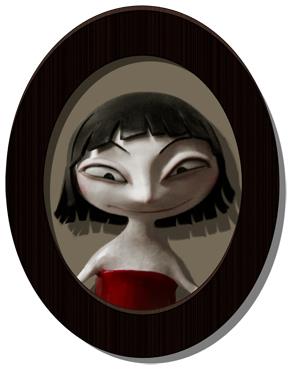 Astrid de Geuser est une artiste plasticienne, sculpteur, peintre, et contemplative du Vivant. En multipliant les techniques et matériaux, elle donne naissance à des êtres hybrides aux essences mêlées, rendant hommage à la faune, la flore, et leurs interactions. Grâce à son passé d'illustratrice, où contes et légendes ont nourri son esprit, ses œuvres uniques se parent d'une dimension narrative. L'harmonie omniprésente dans la Nature, lui inspire des créations où s'enlacent lumière, mouvement et beau, nous invitant à l'émerveillement.
DEMARCHE ARTISTIQUE
Peinture
A l'origine il y a le bois, un matériaux vivant, riche de ses aspérités, ses veinages, son histoire. Arrive la peinture acrylique pour le fond, que j'applique en lavis successifs et toujours humide afin d'obtenir une dispersion des couleurs. De cette action naît le flou, la profondeur, et l'incertitude d'un ciel. L'atmosphère étant installée, je pose le sujet de façon plus ou moins définie. A ce moment je passe en technique sèche; le pastel va pouvoir m'apporter des brumes comme des éclairs de traits vifs, et les crayons de couleurs amèneront précision, nervosité, et mouvement. C'est une immersion contemplative que je recherche afin d'amener l'autre à la rencontre de ses émotions.
Sculpture
Dans la Nature la vie s'est organisée de façon harmonieuse entre la faune et la flore, chacun répondant aux besoins de l'autre dans un équilibre parfait; ces vies étant liées, je les mêle en des sculptures métamorphes.
Tout né d'un croquis d'intention à partir duquel j'imagine les multiples matériaux qui serviront à sa réalisation. Je travaille les divers éléments en polystyrène extrudé, bande plâtrée, grillage, carton, papier, et les fusionne grâce aux résines. Par un traité réaliste de la couleur, à la bombe et peinture acrylique, l'oeuvre vient alors s'animer. Ces sculptures tendent à illustrer la relation symbiotique entre l'animal et le végétal, afin d'éveiller notre conscience du vivant.
---
Prix & Récompenses : (C.V.)
Prix de l'originalité et Prix du public – Biennale de sculpture animalière de Rambouillet (2018)
1er Prix du Salon des Artistes Indépendants Normands, Rouen (2019)
1er Prix du Salon de Rouen (2019)
Prix Hélène Bertaux et prix du public, St Michel de Chavaignes (2019)
Prix Jeune Création, Biennale des Beaux-Arts de Rambouillet (2019)
Prix du Jury, Salon d'Automne d'Elbeuf (2019)
Prix du Public sculpture, Salon National des Artistes Animaliers, Bry-sur-Marne (2019)
Médaille de Bronze, Salon des Artistes Français, Grand Palais (2020)
1er Prix du Salon et Prix du Public, Biennale de Sculpture Animalière, St Pierre-les Nemours (2020)
1er Prix Sculpture, Académie Boitiat, Barbizon (2021)
Finaliste du Beautiful Bizarre Art Prize (2021 & 2022)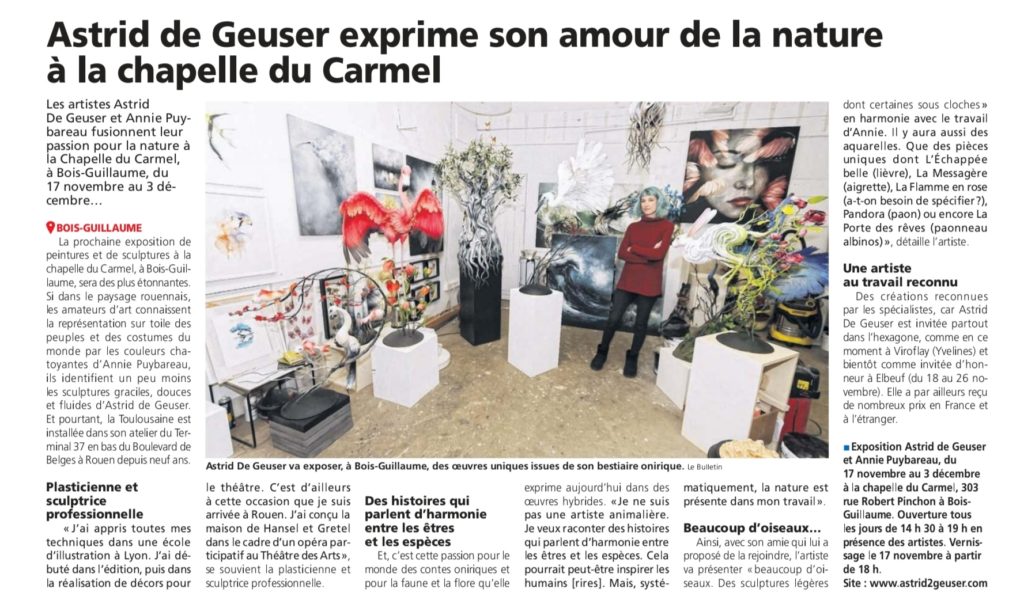 ---
BIO
Astrid de Geuser is french visual artist. Sculptor, painter and contemplative of the Living world. By using multiple techniques and materials, she gives birth to hybrid beings of mixed essences, paying homage to the fauna, the flora and their interactions. Thanks to her past as an illustrator, where tales and legends have fed her spirit, her works take on a narrative dimension. The omnipresence of harmony in Nature inspires her creations in which light, movement and beauty are entwined, inviting us to wonderment.
ARTIST STATEMENT
The Paintings
It all starts with wood, a living material, rich of its asperities, its grain, its story. Then comes in acrylic paint for the background, which i apply in successive layers of wash, still wet in order to obtain colors' dispersion. This step gives birth to a blur, depth, and the uncertainty of a sky. The atmosphere setting in, I put on the subject in a more or less defined way. By this time I switch to dry technique; pastel is going to create mists, radiant vivid lines, then colored pencils bring in precisness, nervousness & movement. I'm looking for a contemplative immersion that will allow the viewers to meet his emotions.
The Sculptures
In Nature, life organized itself in an harmonious way between flora and fauna, each answering the needs of the other in perfect balance; these lives being bonded, I mix them into symbiotic sculptures. Everything starts with a preparatory sketch from which I imagine the different elements needed for its elaboration. I use various materials such as extruded polystyrene, casting tape, wire netting, cardboard, paper, Imerge them together thanks to resins. By a realistic use of color, with spray paint and acrylic painting, the work becomes a lively being. These sculptures tend to illustrate the osmotic relationship between animals and vegetation, to awaken our consciousness of the magic happening in the Living World.
---